Baillie is a Pharmacy Assistant graduate who wished to pursue a career in her chosen field. After working at a pharmacy for several years, Baillie developed an addiction to opiates. Her addiction led her to steal opiates from her employer, at a point when her life and her future seemed to be unravelling. With the help of DMHS Court Support and other services, Baillie has been rebuilding her life. Here is her story.
I'm from Nova Scotia originally and have lived in Oshawa for about five years. Within the first year of living here, my boyfriend got addicted to opiates. He managed to hide this from me for some time; once he did confide in me, I tried to help him get clean.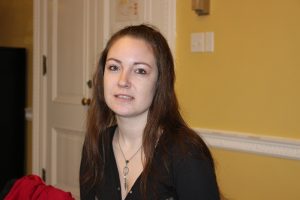 He succeeded in getting clean for a while, but soon experienced a full relapse into addiction. At this time, our relationship was difficult and I was depressed. I began using opiates myself as a way of self-medicating the pain.
My life got way too difficult to handle, to the point where we both were talking about suicide. I was trying to find a way out. That's when I decided to steal from my employer – I guess the plan was, in my head, to have all this medication and be able to wean ourselves off it before coming back to face the charges.
My boyfriend and I left Ontario and went out west for three months, living in our car for the last month. We were fighting constantly – each day was harder to deal with than the last. Then he decided for us to come back.
We were back for about two weeks or so and we ran out of medication. Things got desperate – I intervened to prevent him from killing himself. He left the house frantically and his mother phoned the police – for his safety, and probably for my welfare also.
This led to us being charged. I spent a week in Lindsay Correctional Centre and upon bail, I was connected with DMHS' Mental Health Court Support Program. My time in jail had withdrawn me from opiates and I was determined to maintain my sobriety. Despite some lapses, I began opiate-replacement therapy which I continue on until this day and went to inpatient rehab for three weeks. I also attend Narcotics Anonymous.
DMHS Court Support was there for me through all of this, helping connect me with resources and developing a close and
trusting relationship that helped sustain me in my court-ordered isolation from my boyfriend. They linked me to a psychiatrist and I was finally able to address the mental health issues – ADHD, anxiety and depression – at the root of my addiction. I don't know if I would have made it through all of this without my DMHS Court Support Worker.
I was facing 2 ½ – 3 years in jail, but with everything I've done to rehabilitate myself, the court gave me 30 months' probation with no house arrest. No matter how hard my life may get, I remember the joy I felt when the judge told me "No jail time" and it validates all the hard work I put into getting where I am today.
Now I'm helping others, volunteering at Adelaide's Attic thrift store at the YWCA. And I'm celebrating 11 months of being clean.
The worst feeling in life is watching the person you love slowly destroying themselves and feeling there is nothing you can do to help them. That's probably how my Mom felt watching me. My goal now is to become an addictions counsellor so I can help others who find themselves in a similar plight.