A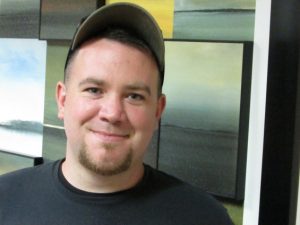 dam is a family-oriented young man who enjoys outdoors activities, such as hunting, fishing, camping and ATVing. He is a supportive father to two children, a seven-year-old boy and a seventeen-month girl.
After a difficult childhood that led to feelings of depression and anxiety, he overcame his reluctance about mental health support and reached out to DMHS.
Here is his story.
Adam's story
When I was young, my parent's went through a hard divorce – one that lasted for about twelve years. I have a younger brother and a younger sister and during the divorce and even for years after, I found myself in the position of looking after them.
Alcohol has been an issue for both sides of my family and family troubles seemed to trigger in me depression, anxiety, low self-esteem and negative thoughts about myself. I'd always had these issues to some extent, but seeing my family struggle made them worse than ever. It was overwhelming.
In 2013, after a split with my partner, I called Durham Mental Health Services' Crisis program. First I had a home visit, and then I stayed a couple of nights at the crisis beds. I was really nervous but I met people there who were going through similar things who I could communicate with and the crisis workers were always available and supportive. My experience there was great. I came out feeling that I was headed in a new direction and I found this was a resource I could depend on.
Pressures built up in my life, due to custody issues and other concerns. Six months ago, everything started getting really bad. Eventually I was arrested and got connected with DMHS Mental Health Court Support. At the exact same time, I had reached out to Crisis and was linked to their Peer Support Worker.
The day after I was released from custody, I had a mobile crisis visit. I was obviously very upset and shocked that it had come to this. It was nice to see the mobile workers, because they helped me realize, "OK, this is where you are, but it's not the end." Over the next while, I had lots of one-on-one meetings with the Crisis Program's Peer Support, which really helped.
DMHS has also linked me up with several wellness groups, including mindfulness, WRAP, and self-esteem. I look forward every week to the classes, because the staff who teach the class, the people in the class, I have a good time when I'm with them. My partner wanted to see what I was experiencing and joined a group with me, which has been a tremendous support. It's strengthened our relationship. Just as examples, I've learned to challenge unhealthy self-talk and I have a detailed plan for preventing or managing crises.
I realize I'm on a journey and I'm cool with that. If I need to take groups 50 times, as long as DMHS will let me, I will and I understand that it's making my healthy habits a day-to-day part of my life, for me, for my partner and for my children.
I haven't met a worker at DMHS whom I haven't felt connection with right away. You're never judged, they help you come up with ideas and strategies for healthy living. I was once on the fence about connecting to mental health services – I was embarrassed and I didn't know what to expect. By giving it a shot, I realized, you spend all this time wondering "What will people think of me?" when what's it's really about is building relationships, learning new skills and putting your health first. I really cherish the connections I've made through DMHS and want to thank each staff.