Wednesday night at Whitby Public Library, Community Development Council of Durham (CDCD) and Durham Mental Health Services (DMHS) hosted a community conversation to show their appreciation for the volunteers who conducted the 2017 Homelessness Enumeration Point-in-Time (PiT) Count. The event was also an opportunity to review the results of that count and to kick-off this year's count, which takes place across Durham Region in April.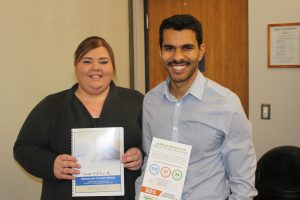 The results of PiT Counts help governments and service organizations understand the extent of homelessness both locally and across the entire country, and plan appropriate services and supports. 2017 PiT Count Coordinator Kyle Pakeman (pictured right) noted that last year's count provides a useful baseline measure of the problem that future counts can build upon.
"This year, we are conducting a Registry Week in conjunction with the PiT Count," says Vanessa Bilenduke, Community Development Manager at CDCD. "The Registry Week is a way to reach those who are provisionally housed who we may not reach through the PiT Count. It will allow us to know these individuals by name and understand their specific needs. Collecting this person-specific data is the key to ending homelessness for our most vulnerable (and often anonymous) homeless neighbours."
PiT Count Volunteer Coordinator Doreen Hume McKenna says "The 2017 PiT Count would not have been possible without the 150 individuals who volunteered and the agencies in each municipality who opened their doors to provide a meeting space as well as food and hot beverages. This was really a spectacular example of the community coming together for a cause they believed in."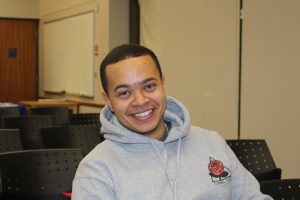 Nathaniel Nolan (pictured left) was a 2017 PiT Count volunteer. He says that homelessness "is an important issue to learn about, one that is affecting all of our communities in Durham Region. By participating in the PiT Count, we can make a difference and also let those who experience homelessness know that we are there, we care and we are doing our best to help."
To learn more about the 2018 PiT Count or to volunteer, please contact PiT Count Volunteer Coordinator Doreen Hume McKenna at dhumemckenna@dmhs.ca.