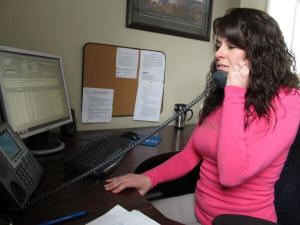 People in crisis require immediate, compassionate support along with linkage to appropriate health and human services. In Durham Region, these crisis support and linkage services are provided by Durham Mental Health Services' (DMHS) C.A.L.L. Centre (Crisis Access Linkage Line).
More than a crisis line, the C.A.L.L. Centre functions as a gateway into Durham's healthcare and human service systems. Callers are helped to identify services that match their needs and then supportively linked to those services, whether they are internal to DMHS or offered by an external provider.
Operating for over twenty years, the C.A.L.L. Centre fields, on average, over 16,000 calls annually. Depending on how much support a caller needs, C.A.L.L. Centre staff can work with the caller over the phone or send out a mobile team of crisis intervention workers to meet the caller in the location of their choice. In 2013, there were over 900 mobile visits completed.
Other triage options include admitting callers to one of DMHS' two crisis beds locations (Whitby and Ajax) for intensive staff support or dispatching Durham Region's Mobile Crisis Intervention Team (MCIT), a partnership between DMHS and Durham Regional Police whereby a police officer and a registered psychiatric nurse intervene with individuals experiencing urgent mental health crises that pose a risk of harm to themselves or others.
"During a typical day, we field close to 60 calls," says C.A.L.L. Worker Raja Lal. "They vary from isolated people seeking social support to high-risk crisis calls.
Regardless of the level of need, we bring the same level of dedication and the same empathetic support to all callers."
The C.A.L.L. Centre operates in partnership with Frontenac Youth Services, Kinark Child and Family Services and CHIMO Youth and Family Services to provide comprehensive, coordinated support to families, individuals and community professionals who call. In these instances, a DMHS Mobile Crisis Worker and a Child and Youth Worker jointly respond. These youth service partnerships make it easier to access crisis support in Durham Region, since there is just the one crisis telephone number for callers of any age.
If you require assistance or for more information about these services, please call DMHS' C.A.L.L. Centre at 905-666-0483 or toll-free 1-800-742-1890.