Ontario Invests in Local Mental Health and Addictions Services –
Big News for Durham Mental Health Services and Clients
 FOR IMMEDIATE RELEASE
WHITBY, ON (April 9, 2015) – The Province is investing $2,640,000 in Durham Region, through the Central East Local Health Integration Network (Central East LHIN), to provide care closer to home for those that are experiencing mental health and addictions challenges. Durham Mental Health Services (DMHS) is receiving $2,240,000 for high priority services which they provide in collaboration with their local health care partners.
The official announcement was made by Rob Adams, Executive Director of DMHS, and MPP for Ajax-Pickering, Joe Dixon along with other elected officials and special guests at New Leaf program in Whitby on April 8, 2015. New Leaf is a social recreational program delivered in partnership with a number of Durham health service providers and agencies and designed to provide opportunities for individuals who are socially isolated and/or living with mental illness in West Durham.
The much needed funding will help a growing population of residents coping with mental health and addiction issues. "This funding announcement is a true testament to the importance of partnerships especially here in Durham Region." Rob Adams, Executive Director, DMHS.
"Investing in local mental health and addictions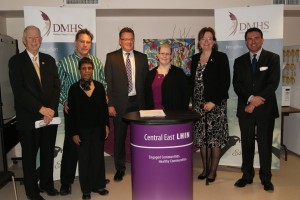 agencies will make it easier to access services here in Ajax-Pickering and Across Durham Region. Helping people early and when they need it most will improve the lives of many residents and families." Joe Dickson, MPP Ajax-Pickering.
This significant funding will support high priority services and projects including:
Housing, Housing Co-ordination and Housing Now: Durham Housing Coordinators. Innovative "wrap around" service supportive housing models connected with Health Links partners and local municipalities. This will support people with mental health and addictions challenges, including seniors, to be safely discharged from hospital settings to obtain safe, accessible and secure housing within their communities;
The development of new residential Community Crisis services;
Expanded Peer Support Services, New Leaf, so that mental health consumer survivors have increased access to safe environments where they can participate in social recreational programs to share their stories and support each other to reduce stigma.
Jewel, who was kind enough to speak at the funding announcement about her own life story and experience having support from DMHS stated "We all have been affected by mental health issues in some way; personally, with a child, a spouse, a relative, a friend, a neighbor. People can and do regain health and wellness especially with your ongoing support from community services such as DMHS".
"It is fantastic to have this DMHS Senior Support office in our building. I see the difference in the seniors. I have heard only great things about the services being provided, including the recreational program. I love my life at Westwood Manor, and since DMHS Senior Support came all the more so." states Ruth as she spoke at the funding announcement. "I wouldn't have been able to cope this well in my situation without their assistance."
"The significant funding our Agency is receiving means better care for our community. We appreciate the continued support for our programs from our healthcare and community partners. Thank you to the Central East LHIN for investing in this area so that people can stay in their own communities with support." said Adams, "We thank our clients who know that hope is essential, and who challenge us to meet their needs and support their journeys to lead quality lives in the community."
About Durham Mental Health Services:
Serving Durham Region for over 25 years, Durham Mental Health Services (DMHS) offers a range of programs to help individuals and families manage the impact of mental illness and work towards recovery. Services include immediate crisis support, longer term supportive housing, case management, mental health court support, consumer survivor initiatives and specialized services for families. DMHS works in partnership with local healthcare and human service providers to deliver accessible, coordinated, and person-centred care.
For more information, visit their website at www.dmhs.ca
To see Durham Region Rogers TV media clip of event, visit http://rogerstv.com/page.aspx?lid=237&rid=2&gid=232030
 -30-
For more information, please contact:
Christina Morino
PR & Communications Consultant
Durham Mental Health Services
905-666-0831, ext. 3210