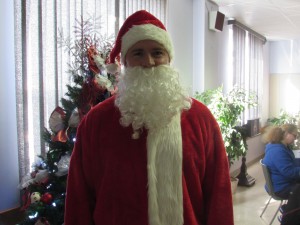 Durham Mental Health Services (DMHS), Rouge Valley Health System (RVHS), and the collaborative New Leaf Day Program involving the Ajax Branch of COPE Mental Health celebrated their 9th annual Christmas Social and Open House on Thursday, December 4.
Through word-of-mouth and promotion by DMHS, RVHS and COPE Mental Health, the event has grown over the years. "We went from having 40 guests to now over 140," says Paula Banting, a DMHS community mental health worker who helped organize the event. "The party would not happen were it not for the hard work of all the DMHS, RVHS and COPE staff, the donation of the space from the Ajax Royal Canadian Legion, the donations of gifts from friends of the event and the donation of the cake from Healthrite Pharmacy. We thank all our partners and supporters for the generosity that makes this event a huge success."
Attendees loved the great food – a homemade turkey dinner with all the fixings along with the beautiful donated cake" – as well as the door prizes, karaoke contest and visit from Jolly Old Saint Nick.
"I just think it's wonderful that year after year we can provide such a great party to our clients," says Paula Banting. "I don't know who looks forward to it more, the clients or me! I would like to thank DMHS Executive Director Rob Adams for ensuring that this event gets funded year after year and to thank the Royal Canadian Legion for their generosity in providing the space for us free of charge."
Heather Frempong, Stepped Care Nurse with the Rouge Valley Health System ACT Team says, "Our clients look forward to the Christmas Social each year. Socialization, food and music is excellent for our mental health. It was wonderful to see the smiles and hear the laughers. We are glad to be a part of this event and look forward to it next year."
Derrick Keene, Program Manager with COPE Mental Health says, "The COPE Mental Health Program is very pleased to join with our partners, Durham Mental Health Services and the Rouge Valley Act Team with the Annual Christmas Social. It is an opportunity to have our clients feel valued. As community partners we have the privilege of bringing the caring and compassion of the Christmas season to our clients in a meaningful and memorable way. I was very moved by the joy and happiness in room at the Royal Canadian Legion. I am very thankful for the support of the Legion for this special event."