Throughout his short life, Blake Garvey loved to skateboard. After mental health and addiction issues tragically took his life at the age of 18, his parents, Suzanne and Chris Garvey, determined to honour his memory, to raise awareness of mental health and addiction issues, and to raise funds for local helping organizations by establishing a charitable event called "Bike, Blade, Board 4 Blake."
Last year's inaugural event raised thousands of dollars for DMHS and Bereaved Families of Ontario. This year's event, happening Saturday, September 9 along Bowmanville's beautiful waterfront trail invites participants to bike, blade, board, walk or run the trail and then enjoy a BBQ, listen to some guest speakers and also listen for their ticket to be called in one of the many prize draws.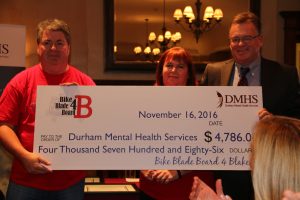 For more event details or to obtain a copy of the pledge/registration form, please contact Suzanne or Chris Garvey at csgarvey@rogers.com.
"Blake constantly had a contagious smirk on his face – he was always happy and made others happy to be around him," says Suzanne. "He accepted everyone and made friends easily. We know he would be proud that his Mom and Dad are doing this in his honour – we know he will be there with us at the event."
"Blake was never ashamed of his illness and never ashamed to reach out for help," adds Chris. "If this event could help one person to come forward with their struggles or help one person see mental health and addiction in a different light, he would consider it a very successful event."
Chris has a tattoo with a picture of Blake that says "No Blame, No Shame, Just Love," a message that perfectly captures the spirit of this event.