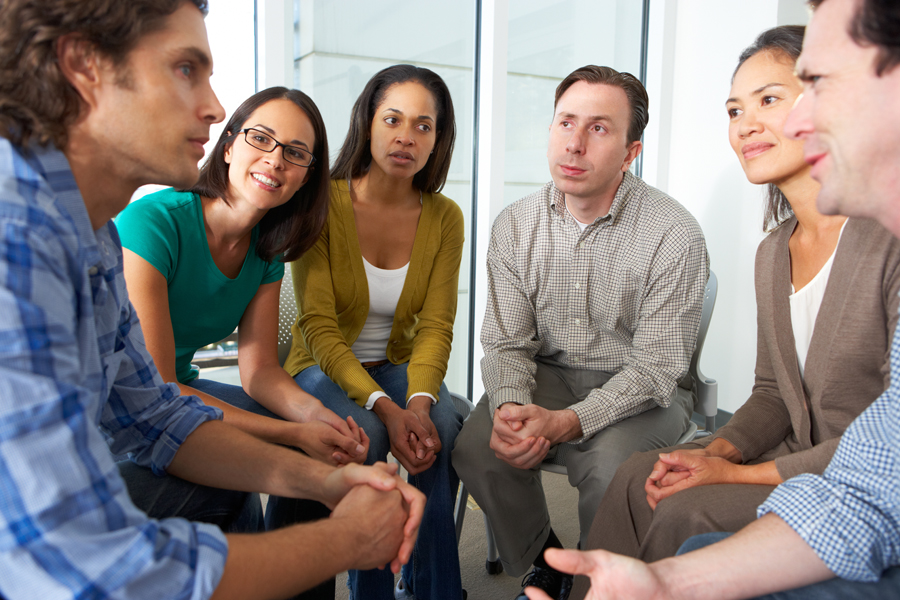 Headed by David Clarke, Coordinator of Communications and Training, our education and training program offers  a variety of workshops and presentations to help individuals and companies better understand, and help, when dealing with mental health issues.
Individuals are welcome to register for any of our upcoming workshops, or our facilitators can come to your organization.  As well as the workshops listed below, workshops can be customized to fill your organization's needs and time constraints.
To find out the next scheduled community workshop, have us to come to your organization to deliver a workshop, or to discuss customizing a workshop to meet your organization's needs, please contact:
David Clarke at 905-444-3242,
Or email dclarke@dmhs.ca
OUR FACILITATORS OFFER THE FOLLOWING WORKSHOPS:

Applied Suicide Intervention Skills Training (ASIST) (2 days)
The ASIST workshop is for caregivers who want to feel more comfortable, confident and competent in helping to prevent the immediate risk of suicide. Over one million caregivers worldwide have participated in this two-day, highly interactive, practical, practice-oriented workshop.
Participation in the full two days is required in order to achieve full certification. Workers in health, welfare, justice, emergency service workers, teachers, clergy and natural helpers are a few of the groups that have benefitted from ASIST. This workshop is instructed by certified LivingWorks trainers.
Also inquire about ASIST TuneUp, a half-day training refresher that is suggested within three years of the ASIST workshop.
As a result of this workshop, participants will be able to:
Identify risk alerts and develop safeplans;
Demonstrate the skills required to intervene with a person at risk of suicide;
Recognize that suicide is broader than suicide first aid and includes life promotion and self-care for caregivers.

Mental Health First Aid (2 days)
Mental Health First Aid Canada is a program of the Mental Health Commission of Canada (www.mentalhealthcommission.ca)
One in three Canadians will experience a mental health problem at some point in their life. The earlier a problem is detected and treated, the better the outcome. The MHFA Canada program aims to improve mental health literacy, and provide the skills and knowledge to help people better manage potential or developing mental health problems in themselves, a family member, a friend or a colleague.
Mental Health First Aid is a two day course that could benefit anyone. Families affected by mental health problems, teachers, health service providers, emergency workers, frontline workers who deal with the public, volunteers, human resources professionals, employers and community groups are just a few of the groups who have benefited from MHFA. This workshop is facilitated by MHFA Canada certified instructors.
As a result of this workshop, participants will be able to:
Understand the prevalence and impact of a range of mental health problems and the need for non-stigmatizing responses to individuals who experience them;
Recognize risk factors and warning signs for mental health problems, including depression, anxiety, trauma, psychosis, eating disorders, substance use disorders and self-injury;
Implement a simple but effective five-step action plan to assess the situation, identify needs and intervene safely and appropriately.
Mental Illness 101 (2 days)
Developed in partnership with the Region of Durham, this 2-day workshop was designed to help non-mental health front-line workers become more knowledgeable, comfortable and skilled when dealing with individuals who experience mental illness. It is an alternative or complement to Mental Health First Aid. There are four self-contained sections:
General Overview of Mental Illness and Recovery (half-day)
The Mood Disorders: Depression and Anxiety (half-day)
The Biologically-Based Illnesses: Schizophrenia and Bipolar Disorder (half-day)
Borderline Personality Disorder or BPD (half-day)
The content and length of each section can be adjusted to suit your needs.
As a result of this session, participants will be able to:
Recognize the symptoms associated with mental illnesses commonly encountered in service settings;
Respond to individuals with mental illness knowledgeably, comfortably and skillfully;
Find effective ways to support the recovery of individuals who experience mental illness.
Combined Crisis/Suicide Intervention (1 day)
Distressed individuals are prone to "act out" (through aggression) or "act in" (through vulnerability to suicide) as a way of coping with unwanted feelings. If you work or live with people who may become distressed, you need to know how to respond effectively; that is, in ways that support the distressed person and reduce the risk to them and others.
This interactive 1-day workshop presents a research-based model of effective crisis intervention and allows participants to practice using that model in situations relevant to their own unique environments/situations. It includes two group running role-plays, one for situations involving potentially aggressive individuals, one for situations involving suicidal individuals. It also presents ways to prevent crisis by modifying the physical and social environment in healthy ways.
At the end of this session, attendees will be able to:
Understand the principles of effective crisis and suicide intervention;
Apply these principles in real-life encounters with aggressive or suicidal people;
Recognize ways to make their workplace or service environment safer for every person every day.
Stress and How to Manage It (2 hours)
Stress is a fact of 21st century life – but what is stress? And how can we manage the sources of stress in our own lives more effectively?
This lively and interactive workshop provides insight into what stress is all about, insights participants then apply to the stressful situations in their own lives. The session includes opportunities to practice calming our minds, relaxing our bodies, and wisely responding to pressures and demands, whatever their source or intensity.
At the end of this session, attendees will be able to:
Understand what's really happening when they feel "stressed out";
Use this understanding to come up with effective strategies for managing the stressors in their lives;
Practice simple but effective stress management techniques, including progressive muscle relaxation and challenging self-sabotaging thoughts.
Accommodating Mental Illness in the Workplace (2 hours)
Workplaces more and more recognize the multiple negative impacts mental health problems can have on individuals and on organizational life. At the same time, they are more aware of their power and responsibility to promote positive mental health among their workforce.
A crucial test of an organization's capacity to promote positive mental health is how it accommodates employees when mental health problems interfere with effectiveness. Well-designed accommodations (possibly including leaves of absences and graduated return-to-work processes) benefit both the employee and the organization.
This session looks at the impact of mental health problems in the workplace and reviews best practice job accommodation and return-to-work principles and procedures. It also provides practical guidance on how organizations can promote positive mental health for every employee every day.
At the end of this session, attendees will be able to:
Recognize the multiple negative impacts of common mental health problems in the workplace and the signs that an employee may be struggling;
Plan and implement best-practice job accommodations (including return-to-work processes);
Spot opportunities to build resilience and promote positive mental health at their workplaces for every employee every day.
When Emotions Rise: Maintaining Effectiveness in Emotionally Challenging Situations (2 hours)
Managers are often experts on the "technical" side of their work – understanding what needs to be done and how to do it. They are also pressured to keep their teams on task. However, they may have little to no previous experience or training on the "human side" of their work: keeping people motivated, defusing interpersonal conflict on teams, etc.
A major "human" factor in the workplace is painful emotions. Emotions can escalate under pressure, potentially damaging team relationships and reducing productivity. This workshop applies insights from the human services field to help managers improve their comfort level and competence in dealing with strong emotions on their teams (during conflict, supervisory meetings, times of change, etc.).
At the end of this session, attendees will be able to:
Understand the unmet needs that fuel painful and powerful emotions;
Apply simple but effective communication strategies to sooth another person and help them bring their emotions under control;
Find research-based ways to promote positive emotions on teams as a protective buffer against workplace conflict and stress.
Understanding Mental Illness, Promoting Recovery (half-day)
Until quite recently, it was thought that most individuals who experience mental illness don't recover. We now know, through abundant current research, that people with mental illness can and do recover to live active and fulfilling lives. Moreover, we know what drives recovery and how helpers can promote it.
This workshop, designed for community mental health workers and for people who encounter individuals who experience mental illness whatever their formal or informal role, describes the impact of mental illness – symptoms, secondary losses and stigma – and then presents an easy-to-learn and practical model of how to promote another person's recovery.
As a result of this session, participants will be able to:
Recognize the multiple negative impacts associated with mental illness;
Learn the facts about mental illness, dispelling persistent unhelpful myths;
Adopt a research-based collaborative and supportive "recovery model" in their own work with people who experience mental illness and with any person recovering from adversity.