Providing mental health services, in your community
Durham Mental Health Services (DMHS) is a charitable not-for-profit agency providing services and supports to individuals and families who are living with mental health concerns. Operating under the direction of a volunteer Board of Directors, staff work in partnership with clients, offering services that are person-centred and sensitive to individual needs.
DMHS began operation in 1987 when a coalition of parishioners at Whitby All Saint's Anglican Church recognized that others in the community, suffering from severe mental health issues, were in desperate need of safe, affordable housing.  Now, over 25 years later, DMHS has grown into an agency with over 180 employees. DMHS offers a range of mental health services, at locations spread throughout the Durham Region.
DMHS is proud to serve our community, raising awareness of mental health issues, fighting the stigma too often associated with them, and offering support and assistance to help people suffering from mental illnesses.
Durham Mental Health Services is accredited, with exemplary standing, through Accreditation Canada, an independent not-for-profit organization which sets standards for quality and safety in healthcare, and accredits organizations in Canada and around the world.
Durham Mental Health Services is funded by the Central East Local Health Integration Network (CE-LHIN), the Ministry of Health and Long Term Care and by Durham Region Department of Social Services.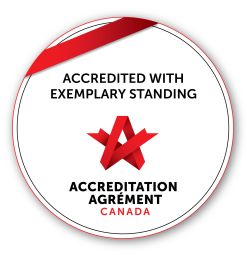 Our services are free and confidential.