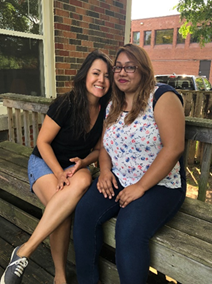 On Thursday, August 15 from 10:30am to 2:00pm, Durham Mental Health Services' New Winds Day Program is hosting its first ever Winds Of Courage free store.
This free store – stocked with food, clothing, shoes, household items, books and much more, all donated by DMHS staff and clients – will be a vital resource to DMHS' community support workers and their clients. Clients can choose anything they like – there is no limit on what each individual can take.
Noely and Orin are Social Service Worker placement students at New Winds who have organized this event. "Winds Of Courage has been a collective group effort," says Noely. "Staff, students and clients have all come together to organize the day and make it a success." Orin adds, "It's good to see that the clients are looking forward to this event, and that they will find the items they need to be happy and healthy in the community."
The name "Winds Of Courage" was proposed by a New Winds member and voted on by the entire membership. Thomas, the client who suggested it, says that "Courage captures the dignity and the effort involved in recovery. This store can promote recovery by reminding people that they are cared for and by offering items that can improve people's quality of life."
Thanks to all who were involved in making this great event happen!