Durham's first Point-in-Time Count, a comprehensive census of people who are homeless in Durham, was held over a 24-hour period on February 15 and 16.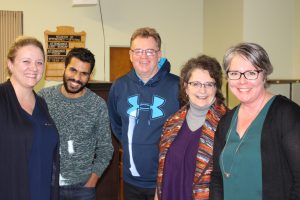 The Count was made possible by federal funding through the Homelessness Partnering Strategy (HPS) and was led by Community Development Council Durham and Durham Mental Health Services with the support of the United Way Durham Region.
Approximately 160 volunteers supported the project by canvassing outdoor locations, shelters, community service sites and indoor locations across each municipality in Durham.
Durham Mental Health Services CEO Rob Adams says "A very special thank you to our amazing volunteers who made this project possible. Their efforts will help us gain a better understanding of the extent and the needs of Durham Region's homeless population."
This is the first time that a comprehensive homelessness census has been conducted in Durham Region. Its purpose is to inform decision makers and service providers about what services and supports are needed to end homelessness.
Community Development Council Durham Executive Director Kate Bird observes that "We understand that having a safe and stable place to live is the first thing that any of us needs to live meaningful and healthy lives, and to address life challenges. We will now take the information gathered through the PiT Count and use it to work towards developing the stable housing that people need."
Many organizations that are involved in providing service to vulnerable people assisted the count. The count included people who were sleeping rough (living outdoors); people who were in shelters; people who stayed in places not meant for habitation (such as their car); and people who were in hospital that night with no fixed address.
A final report on the project will be published later this spring. To obtain a copy, please contact Kyle Pakeman, Point-in-Time Count Coordinator at kpakeman@cdcd.org.